Jim currently teaches in the Atlantic County
areas of South Jersey

Special emphasis is placed on proper hand and foot technique, stick and finger control,
rudiments and reading.

Many different styles are added to the lesson plan as the student progresses.

More experienced players can call on Jim as "a coach" to help work through some issues with their playing
or for a technique tune-up

Jim has a real desire to pass on what he's learned & developed over the years!


~~~~~~~~~~~~~~~~~~~~~~~~~~~~~~~
!!!
Congratulations go out to student Matt Lewis
for being awarded Musician Of The Year of the
Upper Twp. Middle School
!
!!!
_________________________________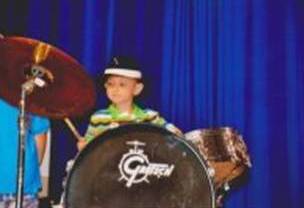 Here's Johnny!
already on stage at age 5 playing
2 Sinatra songs for his Pre School graduation !
Johnny's great to work with,
Already reading and Playing different styles,
Lots of energy and funny too.
Keep your eye on this little guy, He's a natural !
THE STUDENT WALL OF ACHIEVMENT
The Student Wall of Achievement was constructed to give special recognition to those who have and continue to go above and beyond. For those who are already making a name for themselves in their schools and in and around their communities and being an inspiration to others.
All students are encouraged to try and
" Hit the Wall "!!!
JM
~~~~~~~~~~~~~~~~~~~~~~~~~~~~~~~~~~~
Here's student Matt Lewis, already on the gig at age 13.Actually Matt's been on the gig since he was 11 when he auditioned and won the drum chair for the Cape May County String Band!
In his Middle School Matt is the featured drummer in the
Jazz Band and is also in the Concert Band.
He's also recently started his own band doing original material and covers of his favorite classic rock. Soon to be in high school,
keep your eye on Matt, already making a name for himself,
the sky's the limit to the success he'll achieve !
It's a joy to work with such a talented and dedicated student!
~~~~~~~~~~~~~~~~~~~~~~~~~~~~~~~~~~~~~~~~~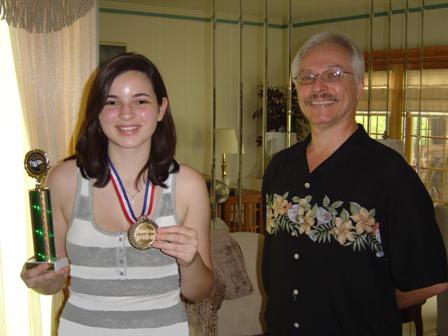 Jim with his student Emily proudly displaying her trophy and Olympic sized medal awarded to her as "Musician of the Year" of her 8th grade class! During the past year Emily was involved Concert Band, Jazz Band, where she was featured with a drum solo and also played a demanding piece for Solo Drums with the Choir. A new interest in Drumline has her busy working on Quads and Marching Snare.
A talented young lady, look for big things from her in the future.
Great job Emily !